Firearms Expungements Attorneys
in Knoxville & Farragut, Tennessee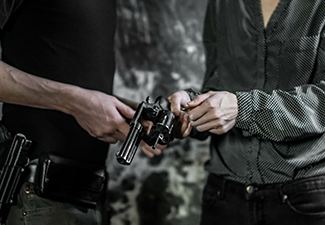 In addition to the immediate consequences of a criminal conviction, such as imprisonment, people convicted of a crime in Tennessee must also deal with a criminal record. Having a conviction on your record can have lasting consequences, such as the loss of gun rights. Fortunately, there may be a solution.
Our firearms expungement attorneys at the Law Office of Joshua S. Reed assist clients in Knoxville and Farragut, Tennessee, with criminal record expungement and restoration of gun rights. Our team also serves clients in other parts of Tennessee, including Clinton, Loudon, Lenior City, Anderson, Oak Ridge, Union, and Maryville.
Firearm Restrictions for Convicted Felons
Both federal and state law places restrictions on firearm possession for those who have a felony conviction on their record. Firearm restrictions on a state level vary from one state to another.
Federal restrictions. Under federal law, those who have any felony conviction or a misdemeanor domestic violence on their criminal record are prohibited from possessing firearms.

State restrictions. Under Tennessee law, the possession of a firearm is prohibited for any person who was convicted of a felony crime of violence, a felony involving the use of a deadly weapon, a felony drug offense, or misdemeanor domestic violence.
If you want to eliminate federal or state restrictions and restore your gun rights, speak with a firearms expungement attorney to discuss your options. Mr. Reed helps people move on after a criminal conviction in Tennessee by assisting them in expunging their records.
Expungement in Tennessee
Expungement is a legal proceeding by which an individual can get their public criminal records removed and destroyed. After expungement, the expunged records do not show up on the individual's background check. However, Tennessee law has strict eligibility requirements for expungement.
According to the official website of the Government of Tennessee, persons may be eligible for expungement if any of the following is true:
Criminal charges against that person were dismissed

The person was released without charges after their arrest

A grand jury issued a "not true bill"

The person was found not guilty at trial

A prosecutor decided not to pursue the person's criminal case

An order of protection was successfully defended and denied after a court hearing
However, expungement of a felony conviction in Tennessee is more complicated because felonies are generally exempted from expungement. Under Tennessee law, a person may not qualify for expungement of a felony conviction if the offense involved:
Murder

Violence

Sexual assault or rape

Child endangerment

Acts of terrorism

Kidnapping

Arson
If you fear that the facts of your case would make you ineligible to expunge your criminal conviction in Tennessee and restore your rights, seek legal assistance from a skilled criminal defense attorney. Our team at the Law Office of Joshua S. Reed helps those convicted of felonies to pursue a restoration of their rights and an expansion of their future opportunities.
Restoring Gun Rights in Tennessee
Tennessee law prohibits firearm possession for any person convicted of a felony drug offense or any felony involving the use or threat of violence, force, or use of a deadly weapon. Restoration of firearm rights in Tennessee is more complicated than in other states. Tennessee law requires people to obtain a judicial certificate of restoration in order to restore their firearm rights after a conviction.
Tennessee's clean slate law allows expungement of eligible criminal convictions. Those who have a criminal record or multiple convictions may qualify to get their record erased under the law. However, individuals cannot ask the court to clear their criminal record if they have been convicted of more than two offenses. Tennessee law requires you to wait five years after the completion of your sentence in order to file a petition for expungement to erase your criminal record.
Restoration of gun rights with a felony conviction may seem like a daunting process. However, an experienced firearms expungement attorney can help you navigate the process of applying for and obtaining an expungement. Mr. Reed represents people looking to clear their records in Knoxville, Farragut, and surrounding areas. Our team understands the profound effects a conviction can have on your life and future, which is why we are committed to proactively investigating your record and filing the appropriate paperwork to help our clients get their records expunged.
Firearms Expungement Attorneys
Serving Knoxville & Farragut, Tennessee
At the Law Office of Joshua S. Reed, our firearms expungement attorneys are dedicated to fighting for the rights of those who have been convicted of a crime in Knoxville & Farragut. We believe that everyone deserves a second chance. Our attorneys help people clear their criminal records and restore firearm rights through expungement. Reach out to our office to learn more about firearms expungements and determine if you are eligible to obtain an expungement.